Facilities Stewardship Series
Recorded On: 04/19/2023
Register

Member - Free!
Non-member - $59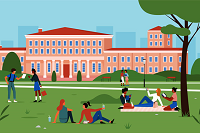 Senior business leaders have long understood the significant financial scope of their physical campus, but the last several years have amplified the impact that those facilities and the facilities leadership can have on the student and faculty experience, research, and revenue. Daylight has been shed on how space, capital, and operating decisions can be critical to the campus's capacity to serve mission and business imperatives that are evolving dramatically.
As former assumptions about the future continue to be challenged and unanticipated business circumstances emerge, new ways of measuring and analyzing the impact of facilities demands will be required to transition campuses to meet upcoming pedagogical, technological, social, and experiential evolutions.
This series on Facilities Stewardship engages active business leaders to share their insights on tools and techniques that they are using to understand, reimagine, and reinvest in the physical campus for the greatest benefit to the communities they serve.
---
Session Info
Four recordings are included in this series:
Integrating Campus Mission, Capital Strategy, and Space Optimization. Explore how to align critical voices and functions on campus regarding plans for place, resource optimization, and institutional identity in the wake of the seismic demographic and programmatic shifts in higher ed over the past few years.
Social Equity, Culture, and Campus Investment. Learn how the nature of the higher ed campus is becoming ever more linked to the built environment and how changes to program, technology, social experience, and resources will be critical to adapting the campus to an evolving customer profile with increasingly diverse community needs.
The 2023 State of Facilities in Higher Education. Dissect the data and trends that will play a pivotal role in reshaping the future of the built environment in higher education and the decision-making frameworks that are flying in the face of the status quo.
The Debt Burden of Deferred Capital Renewal in an Inflationary Environment. Engage with our speakers on different strategies for tackling burgeoning deferral rates that seem to extend beyond the reach of traditional financial measures and reckoning tools and explore what past investment lessons might tell us about the future challenges.
---
Sponsor
This NACUBO Partner Webinar Series is created by and offered free for members thanks to:
This webinar and associated materials are provided for general informational purposes only. The views expressed in the webinar are those of the sponsor and/or individual speakers and not NACUBO. NACUBO does not necessarily endorse any information, views, products, or services discussed in the webinar.
Lauren Cox
Vice President, Finance and Administration, Catawba College
Lauren Cox is the vice president of finance and administration and chief financial officer of Catawba College. Prior to her current position, she worked as interim chief financial officer at Guilford College and as assistant vice chancellor for Foundation Finance and Investments at the University of North Carolina at Greensboro. Additionally, she held positions at Syngenta Crop Protection Inc., Elon University, and Ernst and Young (EY).
She holds an M.B.A. from Elon University. She also holds a master's of accounting and a bachelor of arts in public policy and law from the University of North Carolina at Chapel Hill. She holds designations as a Certified Public Accountant, Chartered Global Management Accountant, and Certified Treasury Professional. She also holds certificates from the Yale School of Management, AICPA Leadership Academy, AICPA digital, ESG certificates and MarketEdge International Leaders Program.
Cox is a Greensboro, North Carolina native. Family, friends, travel and watching college athletic games are her passions outside of work.
Lander Medlin
President and Chief Executive Officer, APPA
Lander Medlin is president and CEO of APPA, Leadership in Educational Facilities, where we cultivate community and contribution that drive results. Medlin formerly worked at the University of Maryland, College Park in both facilities and one of the academic provosts' office.
Mike Moss
President, Society for College and University Planning
Mike Moss, CAE, serves as president at the Society for College and University Planning (SCUP). His primary responsibility is working with the board of directors on the alignment and execution of the society's strategic plan. In collaboration with the members of the SCUP Council, he works to create an environment at SCUP where members from all planning types can come together to share experiences and solve their stickiest challenges, together.
Moss started his non-profit management journey in 1992, when he accepted his first job at the Saginaw Bay Watershed Council. Since then he has worked in two state associations and two international associations, with responsibilities in learning, operations, human resources, IT, strategic partnerships, and member services. His international assignments have given him the opportunity to work in 15 countries across North and South America, Europe, and Asia. Moss is an active volunteer in supporting association management organizations through board service, facilitation of strategic planning processes, and teaching strategy and governance courses.
Sharron Scott
Chief Financial and Operating Officer, Vermont State Colleges System
Deborah Wallace
Vice President of Administration and Finance, California State University, Dominguez Hills
Deborah (Deb) Wallace was appointed the vice president, administration and finance/CFO at California State University, Dominguez Hills (CSUDH) in February 2020. Prior to, she served as AVP, business and finance at California State University, Northridge.
A commissioner on the City of Carson, CA Economic Development Commission, Deb is a proud graduate of the Higher Education Resource Services (HERS) Leadership Institute and has taken post graduate courses at Cornell. Deb earned a master's of business administration from the University of Phoenix, and her bachelor's in business administration/economics and finance (honors) from Elizabeth City State University, a constituent institution of The University of North Carolina.
Angela Blanton (Series Co-Host)
Chief Financial Officer, Carnegie Mellon University
Angela Blanton was appointed Carnegie Mellon University's vice president for finance and chief financial officer in 2017 after serving as interim vice president and CFO in 2016. As CFO, Blanton provides strategic leadership for the university's business and finance functions, as well as for the management of its financial and capital resources. She oversees budget and financial planning, business applications development and support, the controller's office, procurement services, the treasurer's office, finance training and communications, and university audit services. Within those units lie critical business functions including (but not limited to) payroll, financial reporting, accounts receivable and payable, sponsored projects accounting, international operations, and financial systems. Blanton is highly collaborative across all functions to support the university's vision of transformative impact on society through continual innovation in education, research, creativity, and entrepreneurship.
Blanton has over two decades of experience in finance, project management, and engineering disciplines within the higher education, financial services and manufacturing industries; prior to joining Carnegie Mellon, she was CFO for PNC Investments. Blanton serves on the board of the global asset management firm GCM Grosvenor, which became a public company in 2020. She is chair of Pittsburgh Public Theater's Board of Trustees and volunteers on several other non-profit boards, including the Black Economic Advancement Mobility (BEAM) Collaborative and the National Association of College and University Business Officers (NACUBO). Additionally, Blanton serves on the Inclusive and Equitable Economy Committee for the Pennsylvania Economy League of Greater Pittsburgh (PELGP).
Blanton received a bachelor's of science in electrical engineering from the University of Michigan and her M.B.A. from the Tepper School of Business at Carnegie Mellon University.
Pete Zuraw (Series Co-Host)
Vice President of Market Strategy and Development, Gordian
Pete Zuraw serves as the vice president of market strategy and development for Gordian. Zuraw leads his team to improve customer understanding and strengthen the connection between Gordian's service offerings and the needs of its members. He also focuses on efforts to reinforce the company position as the voice of record for facilities issues in institutional market places. In previous roles, Zuraw gained facilities management and planning experience through guiding organizations serving higher education institutions, state agencies and faith communities over 27 years. Zuraw earned a bachelor's of science in civil engineering and a bachelor's of arts in architecture, both from Lehigh University.
Key:

Complete

Next

Did Not Pass

Available

Locked
Gordian is the leading provider of Building Intelligence Solutions for all phases of the building lifecycle, offering unrivaled insights, comprehensive expertise and robust technology to guide and enrich campus facilities strategies. More than 300 institutions of all types and sizes harness our planning, prioritization and procurement solutions every year to optimize the resources and practices serving their campus facilities portfolio and enable targeted action towards institutional goals.
Contact Information
Links and Resources