Strategies for Growth and Innovation: How Partnerships, Affiliations, and Acquisitions Support Expansion in Higher Education
Recorded On: 06/15/2023
Register

Member - Free!
Non-member - $170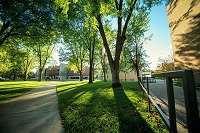 This webinar explores strategic partnerships to drive programmatic or geographic expansion, alternative delivery models, real estate opportunities, and economies of scale. Purdue University discusses various acquisitions and partnerships including its Kaplan/Purdue University Global transaction, its agreements with Duke Energy, and its plans for an adjacent neighborhood hospital. New York University discusses its expansion strategy in neighboring Brooklyn.
Chris Rulh
Chief Financial Officer, University Treasurer, Purdue University
Chris Ruhl became Purdue University's chief financial officer and treasurer on January 1, 2020. Ruhl also serves as treasurer of the Purdue Board of Trustees, as approved on Dec. 6, 2019. In his role, Ruhl is charged with managing the university's budget of more than $2 billion and overseeing all financial affairs, business services, human resource services, and internal audit functions. He reports directly to the president and the Board of Trustees and serves on the university's executive leadership team.
Prior to this appointment, Ruhl served since July 2017 as Purdue's senior vice president for strategic initiatives and CFO for Purdue University Global. He came to Purdue from Ivy Tech Community College, where he was CFO and general counsel. Ruhl also served as director of the Indiana Office of Management and Budget (OMB), director of the Indiana State Budget Agency, and policy director and general counsel for the Indiana OMB under then Gov. Daniels. He holds a Juris Doctorate from the Valparaiso University School of Law and a bachelor's degree in finance from the Michigan State University Eli Broad College of Business.
Janine Wilcox
Senior Associate Vice President, University Treasurer, New York University
Janine Wilcox manages the university's office of real estate, insurance programs, the debt and capital planning team and all treasury functions. In her role as university treasurer, Wilcox oversees the issuance of new debt as well as the ongoing maintenance of NYU's existing $4B+ obligations and NYU's tax-exempt bond compliance program. Wilcox is also responsible for the university's $3B capital plan, providing funding for NYU's physical facilities and IT infrastructure. Wilcox's work with the office of real estate covers all transactions, including acquisitions, dispositions, and leasing activity (both as landlord and tenant).
Wilcox's prior professional experience includes several years of non-profit investment banking at Wells Fargo and Bank of America Merrill Lynch, specializing in tax-exempt bond issuance on behalf of colleges, universities and museums. Prior to her career in banking, Wilcox was a statistician in the biomedical space, working with pharmaceutical firms and public health organizations worldwide. Wilcox holds a B.S. degree in statistics and economics from the University of Pittsburgh and earned her M.B.A. with honors at New York University.
Key:

Complete

Next

Did Not Pass

Available

Locked
Strategies for Growth and Innovation: How Partnerships, Affiliations, and Acquisitions Support Expansion in Higher Education
Recorded 06/15/2023 | 58 minutes
Recorded 06/15/2023 | 58 minutes